Volumetric Concrete Delivery
Exact Amount, Exactly When You Want It
24/7 Delivery • On-demand material by the ¼ yard Starting at ½ yard
DelDot Certified: Class A Mix, Class B Mix, Class B-S/F, Class A 6 Hr Road Patch, Class A 3 Hr Road Patch, Class A 3 Hr Low Permeability Road Patch.
PennDot Certified: Ready Mix Supplier; District 6 / Bulletin 42.
Calculate your cement material cubic yard volume:
Homeowner-friendly deliveries
Get what you want, when you want it
Trucks available 24/7, 365
We even deliver on weekends!
We save you time and money!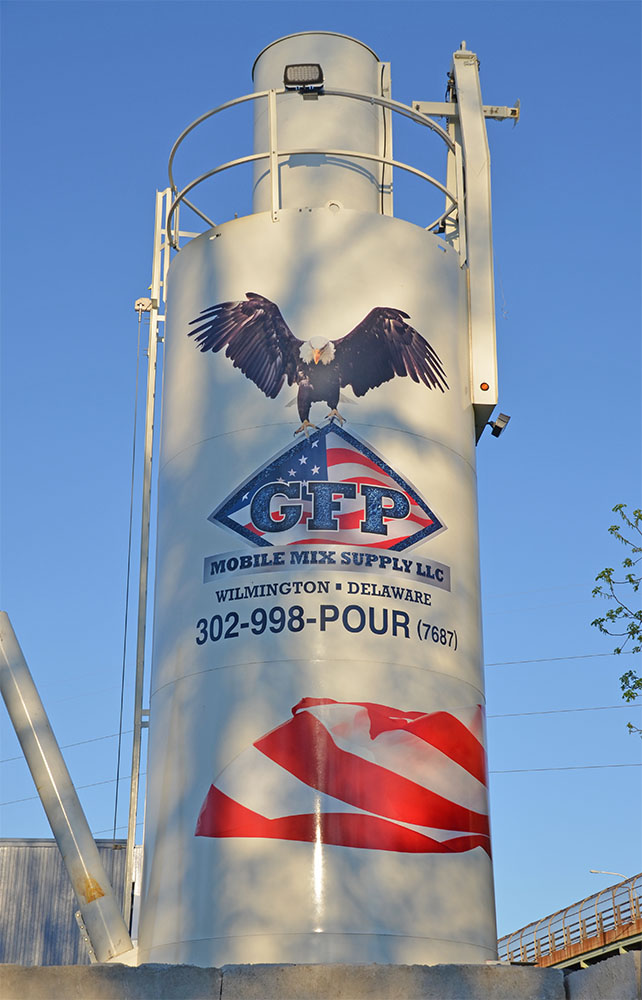 GFP Mobile Mix Supply prides itself in providing our customers with the "highest in quality" materials and service. We specialize in delivering metered concrete, so you only pay for what you use. The concrete is mixed fresh on-site in the exact mix design and amount you need. No wasted material or money.
We offer a full line of concrete mixes for both commercial and residential projects.
Why Should I Use GFP Mobile Mixers?
No Waste or Leftovers
If a Project requires 2½cy., you only need to order 2 ½ yards. You will not need to order 3 yards nd pay more so you don't run short. You will not need to worry about running short then waiting on another Return Load with an additional Short Load. You will only pay for what you use, whether it turns out to be 2 ¼ yards or 2 ¾ yards.
One Project / Multiple Mix Designs
With our State of the Art ACCU-POUR SYSTEM, multiple mix designs are pre-loaded into our software and available at any time with the touch of a button. You can pour a 5cy 4000psi Non-Airtrained Garage Slab, a 2cy 3500psi Air-Entrained Sidewalk Pad reinforced with Fibermesh, and a 2.5cy red-dyed 3000psi Air-Entrained mix all in the same delivery, with NO added Short Load Fees or waiting on Return Loads.
No Hot Loads
Between Mother Nature and fluctuating traffic flows, our Concrete is freshly mixed when the truck arrives onsite, and not an hour old in 90 Degree heat.
Rainy Days
If the Load is released and we arrive at the site and it starts to pour down rain, you can either cancel the pour and only pay the Cancellation Fee without having to pay for the whole Load of Concrete, as you do on a Ready Mix Truck, or you can wait out the passing storm and only pay for the wait time on the truck without the worry of a rejected Load. Remember—our Concrete is mixed on demand.
Precise Slump Control
Our Slumps can be changed at the push of a button and mixed to your requirements in less than one minute. NO WET LOADS and waiting on drum rotations to tighten your Load.
Concrete When You Need It
Deliveries are available 7 Days-A-Week, 24 Hours a day. Please call Dispatch for scheduling requirements.
No Cold Joints
NO waiting on Return Loads for short Orders or miscalculations. We produce the exact amount of product you need every time.
Pay Only What You Use
You will only be charged for the amount of Concrete batched in ¼ yard increments, after the first cy.
Roll and Pour System
Trucks are equipped with unique system that allows drivers the ability to discharge concrete without leaving the cab of the truck. This system is perfect for curb machines and related applications.
Extended Finishing Time
Because our Concrete is mixed fresh onsite, Finishers will have extended finishing time.
Environmentally Friendly
GFP Mobile Mix Supply is a proponent of Environmental Protection. In an effort to protect our environment, we have put into operation the following measures:
Our Silo has a 99.99% Dust-Free "Belle" Style Dust House
A Washout Container with a CO2 Treatment System has been installed, providing 100% Recycling of our Washout slurry
All Equipment is New and meets all current State and Federal Emission Requirements
PennDot Certified!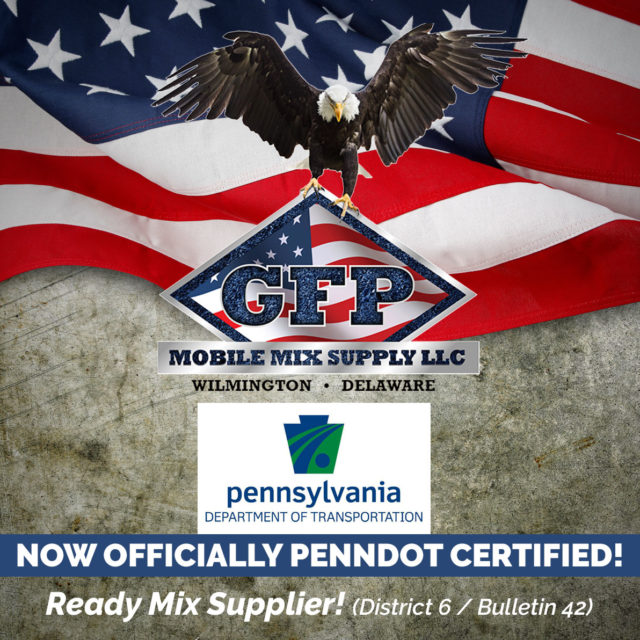 DelDot Certified!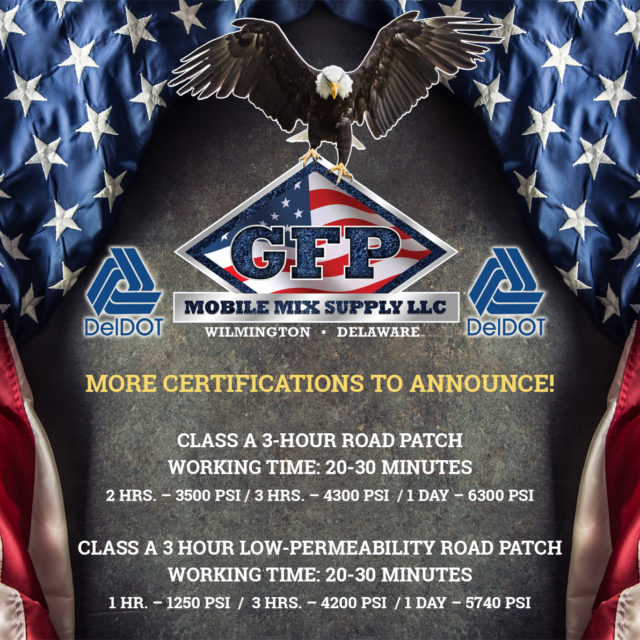 Concrete Mixes
Standard Mixes Both Air-Entrained & Non-Air-Entrained
3000psi
3500psi
4000psi
4500psi
5000psi
DelDot Certifications
Class A Mix
Class B Mix
Class B-S/F
Class A 6 Hr Road Patch
Class A 3 Hr Road Patch
Class A 3 Hr Low Permeability Road Patch.
Specialty Mixes
Rapid Set Cement
Flowable Fill (Pourable or Pumpable)
Shotcrete
Pervious Concrete
Grout Mixes – (1-2), (1-3), & (1-4)
Admixtures
Non-Chloride Accelerator – 1%, 2%, or 3%
(Plasticizer) Mid-Range Water Reducer
(Plasticizer) High-Range Water Reducer
Silica Fume
Corrosion Inhibitor
Xypex Crystalline Waterproofing
Various Upgrades
Polypropylene Fibers
½" Stone (Pea Gravel)
Extra Stone (Exposed Aggregate Mix)
River Jack Stone (Exposed Aggregate Mix)
Winter Concrete (Hot Water)
Rentals
4'x8' Alturna Mats
Alturna Mats virtually eliminate damage to lawns and landscaped areas and provide traction for vehicles.
Alturna Mats heavy-duty half-inch thick 100 percent polyethylene mats support 60 tons of equipment.
Concrete Buggy
with Catalytic Exhaust Scrubber for Emission Control
includes Delivery, Operator, and Return.
Miscellaneous Materials
½" x 4" x 10' Pieces Fiber Exp.Jt $5.00/ea
ENVIROSAC 2' x 2' Washout Bag $95.00/ea (Customer is responsible for Disposal)
Concrete Sealer
Available for Delivery with your Concrete Order or Picked Up at our Plant. Call 1-833-MOBL-MIX (1-833-662-5649) for pricing.
Safety/Driver Qualifications
All of our Drivers go through extensive training and are required to complete the following:
Background Checks
Twic (Transportation Workers Identification Card)
30 hr OSHA Training
Silica Awareness Training
Volumetric Mixer Operator Certification
Drivers wear the following PPE:
Hard Hats
Safety Glasses
Steel Toe Boots
FRC Overalls (when required)
Ear Plugs (when required)
New ACCU-POUR™ Technology was first revealed at the 2019 World of Concrete event in Las Vegas, using the new GFP Mobile Mix Supply Truck for their presentation:
What is ACCU-POUR TECHNOLOGY?
ACCU-POUR is the Front-End solution for scheduling, dispatch, and fleet management functions. This software allows our dispatch office to keep track of the status and location of each Mixer in Real-Time. ACCU-POUR documents and stores all key mixer production statistics. As part of this system, GFP Mixers are equipped with Rugged Tablets that wirelessly send and receive production data between dispatch and the mixer, as well as viewing mixing parameters in Real-Time. Once pour is complete, final job data syncs automatically with dispatch.